Over 1,300 people show the borough is certainly Full of Life
Release Date: 08 October 2019
Twickenham's RFU Stadium was full of fun, full of laughter, full of dancing and, yes, full of life last week as over 1,300 older residents turned out for the annual fair to combat isolation and loneliness.
86 stallholders attended the event, providing information and advice about services and activities available in the borough. An action-packed schedule of activities and workshops were also popular, including:
Tango demonstration with Freedom Tango from Teddington
Chair yoga with Sarah Greenall from the Greenwood Community Centre
Zumba by Age UK Richmond
Breathing workshop with Conscious Breathworks
Ukulele performance and singalong by Age UK Richmond
Performance from the Whitton Adult Community Choir
Scam prevention seminar by NatWest
Flu jabs by the Richmond CCG
Healthy eating workshop by Dorcas
For those who were unable to attend, two mini-fairs are being held this week with spaces still available for people to attend. This includes:
Richmond Community Action Mini-Fair on Thursday 10 October, from 1 to 4pm at Richmond and Hillcroft Adult Community College
Barnes Community Action Mini-Fair on Friday 11 October, from 11am to 2pm at Kitson Hall
Cllr Piers Allen, Cabinet Member for Adult Social Services and Health, said:
"How wonderful it was to see so many of our older residents join us last week. The RFU Stadium was definitely full of life as attendees enjoyed vibrant activities, lively information sessions and a good old cuppa tea and a chat.
"Thank you to all the organisations who hosted stalls and activities or who donated items to help make the day go so well."
A big thank you to our local partners for supporting the event including Greggs Bakery, Plum Duff Catering, Ole and Steen, PAUL Richmond, LumberJack Bars, Sugar n Spice, Blackfriars.
Find out more information about Full of Life and the Mini-Fairs online.
See the video of the event on our YouTube channel.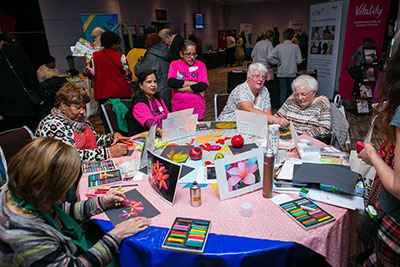 Notes for editors
If you are a journalist and would like further information about this press release, contact Elinor Firth on 020 8487 5159.
Reference: P323/19
Updated: 02 December 2020