Full of Life Online Fair 2021
Full of Life is Richmond upon Thames' flagship annual event to provide residents aged 55+ with the information they need to live independent and happy lives.
This year's fair will be a virtual event with informal talks and activities. You will need access to the internet and an email address to attend. Computers can be booked and accessed for free at your local library.
Full of Life will take place on Friday 1 October 2021.
In addition to the online fair, there is the Full of Life Fund, which gave funding to organisations working with those aged 55 and over in the borough to host their own smaller scale, in-person events in early October to coincide with Silver Sunday celebrations on 3 October 2021. View what's happening in the borough and get involved in some local free activities.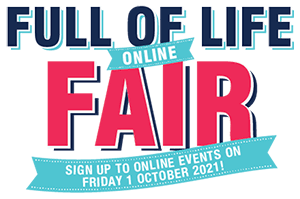 Timetable of the day
The day will begin at 10am with the last session taking place at 3.30pm. Sessions will be 30 minutes long with two events/activities happening at once.
You can choose which session you would prefer to attend, and can either attend all sessions on the day or pick a few. There will be a break for lunch from 12 noon to 1pm.
Sessions 10 to 10.30am
An introduction to Lasting Power of Attorney and Wills with Citizens Advice Richmond - Why you need them and what you need to do to arrange them.
How to manage food waste to save money and the planet with West London Waste

-

Learn about the impact of food waste and why it is important to reduce food waste to help tackle climate change and save the planet. 
Sessions 10.30 to 11am
Keeping our heart and brain healthy

-

Keeping on top of our health and spotting the early signs of health conditions is essential as we get older. Attend this fun and interactive session by the Public Health team to learn about the importance of keeping our heart and brain healthy.
How to spot a scam with the police - Spotting a scam isn't always easy, but scammers tend to use some common tactics, which can give them away. Join this session to learn how not to fall victim to scams. 
Sessions 11 to 11.30am
Sing or listen to Whitton Adult Community Singing

-

Join Loulla and others from Whitton Adult Community Singing for a fun singing workshop open to everyone of all singing abilities! Feel free to just listen too. 
Self-care whilst caring - five key tips for carers with Richmond Carers Centre - Do you provide support for someone who would not manage without your help? Former carer and author Sara Challice will share her tips on looking after yourself whilst looking after a loved one. Sara is the author of the best-selling book, 'Who Cares?' – How to Care for yourself whilst caring for a loved one. Sara cared for her husband for 13 years after he was diagnosed with a brain tumour and now empowers others to care for themselves whilst looking after a loved one. 
Sessions 11.30am to 12 noon 
The five ways to wellbeing with Richmond Borough Mind

-

This is a chance to reflect and share ideas on improving your wellbeing. Included in the session will be tips, tools and practical exercises, as well as signposting to services that are available to you in Richmond upon Thames. 
Understanding the importance of nutrition - The world of nutrition can be complex to navigate with all the information coming at us through lots of different sources. What exactly does a healthy diet look like?  Come along and learn how good nutrition and a healthy diet can support us as we get older. This session is led by Richmond Council's Public Health team. 
Sessions 1 to 1.30pm
Cultural Reforesting art workshop with Orleans House Gallery

-

Get creative in this artist led workshop and discover the fascinating ecological and historical background of Orleans House Gallery, a free public art gallery set in beautiful gardens overlooking the River Thames in Twickenham. 
The latest on health care and vaccines with Healthwatch Richmond - This is your opportunity to find out the latest information on health, social care and COVID-19 and to get answers to any questions you have on accessing health, care, and vaccines or boosters. 
Sessions 1.30 to 2pm
How technology can help with independent living with the Richmond Front Door Team - Join us for a demonstration on the benefits of using care technologies and find out how they can help you stay independent and connected. Care technologies can be simple apps that you download or devices such as Amazon Alexa, a tablet, or a memory clock. 
Discover the borough's best culture spots with VisitRichmond - Learn more about what's on your doorstep by discovering some of the borough's lesser known about attractions! 
Sessions 2 to 2.30pm
The positive impact of volunteering with Richmond CVS

-

Discover the power of volunteering on the community and volunteers themselves, as well as volunteering roles and opportunities in the borough that could be suited to you.

 

Zumba with Age UK Richmond

-

Get active at the Full of Life Online Fair by having fun and moving your body with a 30-minute Zumba class! Zumba involves dance moves designed to get your heart rate up and target lots of different muscle groups at once for total body toning.

 
Sessions 2.30 to 3pm 
Preventing type 2 diabetes - Around three in five cases of type 2 diabetes can be prevented or delayed by maintaining a healthy weight, eating well and being active. Attend this session to learn more about understanding your risk of type 2 diabetes and the NHS Diabetes prevention programme.
Introducing you to the eLibrary with Richmond Libraries - An overview of the library's most popular online services including a step-by-step demonstration of how to access eBooks, eAudio, and daily digital editions of newspapers and magazines for free. 
Sessions 3 to 3.30pm
Chair yoga with Sarah Greenall Yoga - Finish your day at the Full of Life Online Fair by joining

Sarah for a gentle chair yoga session suitable for those 

looking to stretch aching muscles, ease away stiffness, improve circulation, build strength and flexibility, reduce 

stress, help with pain management and improve mental clarity.

Save energy and save the planet with the Richmond Climate Change Team

-

We spend over 90 per cent of our time indoors, and most of this is at home. Yet many people are unaware of how much their home contributes to their carbon footprint or how their home environment can have significant impacts on their health and wellbeing. This interactive session will explore how making changes to the home can help the planet, save you money and improve your health. 
Updated: 16 September 2021