British Sign Language (BSL)
If you are a British Sign Language user, you can use SignLive to contact Richmond Council through an online professional BSL interpreter from your own device.
About SignLive
SignLive connects deaf users with online BSL interpreters at the click of a button. SignLive can be accessed via a desktop computer or laptop with a webcam, microphone and speakers, or via an app on their smartphone or tablet. SignLive works over broadband, WiFi and 3G/4G connections.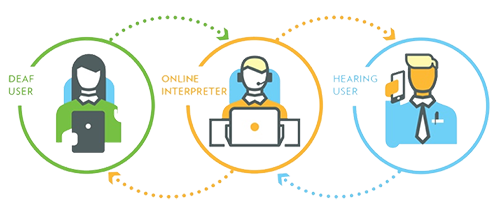 You only need to register with SignLive once and you will be able to connect with us quickly via SignLive's Community Directory. This is a free service which is available Monday to Friday from 9am to 5pm.
How to access SignLive
Follow the steps below to access SignLive for the first time:
Download the SignLive app to your smartphone or tablet device via the Google Play or App Store, or use your web browser
Register for a SignLive account, (instant login options include Google and Facebook)
Complete all the required fields and press register
A confirmation email will be sent to your email address to confirm your account
Once your account has been confirmed, you will be able to login using your username and password
Select Richmond Council in the Community Directory
Press the green button to connect you to a BSL Interpreter who can relay the telephone call
The interpreter will appear on the screen, usually within 40 seconds. The connection is automatically set to mute, so please enable audio once the interpreter is in sight.
Video: How to use the SignLive directory
SignLive access points
You can access SignLive at computers in our local libraries and at the Civic Centre.
Reporting issues with SignLive
Any issues encountered when using SignLive should be reported to SignLive directly.
Email: hello@signlive.co.uk
Telephone: 03308 220822
Updated: 02 September 2022