Fitness equipment in parks
There are a number of parks and open spaces in the borough which host fitness equipment.
Types of equipment and their locations
We have a number of sites across the borough where fitness equipment has been installed.
At Carlisle Park and Heathfield Recreation Ground, we have installed outdoor fitness gyms that incorporate equipment which is suitable for both users who suffer from mobility problems and those that are able bodied. This is in line with our Friendly Parks for All programme which looks to make our parks more accessible for all users. 
Outdoor gym equipment which include a mixture of static and moving items can also be found at the following parks and open spaces:
A special Olympic themed outdoor fitness facility called The Adizone has been installed at Old Deer Park, Richmond. It is sponsored by Adidas and will further increase the opportunities for residents to lead an active and healthy lifestyle. The Adidas reputation will engage young people and was installed as part of the London 2012 Olympic Movement. 
Features
At Murray Park, we have installed a number of items which are located at different spots around the entire park as part of a trim tail design.
This installation has been accompanied with thermographic markers on the main pathways. This is to encourage users to jog, run, sprint and walk at 100m intervals.
At Kings Field, Hampton Wick, a Multi-Purpose Fitness Frame has also been installed.
The majority of our outdoor gyms have been fitted with a grass-matting safety surface which will help to sustain the surrounding grassed areas. Heathfield Recreation Ground has a porous surface made out of recycled rubber as we wanted to ensure that users who suffer with mobility problems could navigate the gym safely.
Health and safety guidelines
Please read these instructions before using the equipment:
An adult must adequately supervise children. This is not play equipment
If you are in any doubt about your health or level of physical fitness, please consult a doctor or fitness professional before using this equipment
Read the instructions on each piece of equipment first
Do not use any equipment if it appears damaged, or is malfunctioning. Please report this to us on 020 8891 1411 or email parks@richmond.gov.uk
Aim to do at least 20 minutes of medium to high intensity exercise overall, spending approximately two minutes on each piece of equipment
Begin your exercise routine with a warm up session. Start slowly and built up intensity gradually
Stand clear of all equipment when in use by someone else
Be courteous, allow others to use the equipment as soon as you have finished your session
Stop if you feel faint or dizzy. Do not use under the influence of drugs or alcohol
After your session allow 5-10 minutes to stretch off and cool down. Stretch each muscle group for 15-20 seconds
Users of this equipment do so at their own risk. We do not accept any liability for loss or injury caused by the use of this equipment
Please note that it is not advised for under 14 year olds to use the equipment.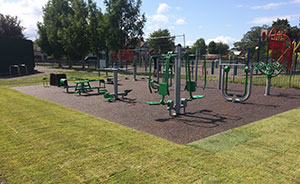 Outdoor gym at Heathfield Recreation Ground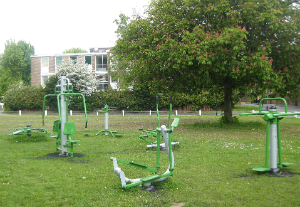 Outdoor fitness at Ham Village Green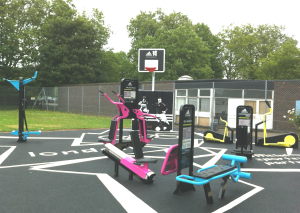 Adizone at Old Deer Park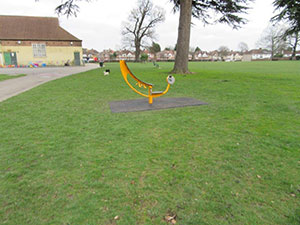 Fitness 'trim trail' at Murray Park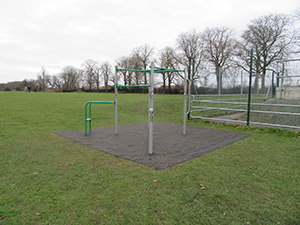 Fitness frame at Kings Field